Integration of piezoceramic modules in aluminium castings using high pressure die casting – Technology development and numerical process simulation
C. Körner
Aims
The subproject B03 is developing large-scale production applicable technologies for the integration of piezoceramic actor-sensor modules into aluminium high pressure die castings. Essential parts of the research include:
Development of a large scale applicable production/casting technology
Optimal positioning and efficiency of the integrated sensor-actor modules
High pressure compound casting (HPCC) using ultrathin Zn-layers for enhanced mechanical properties
Dynamic fixing system for minimal insert volume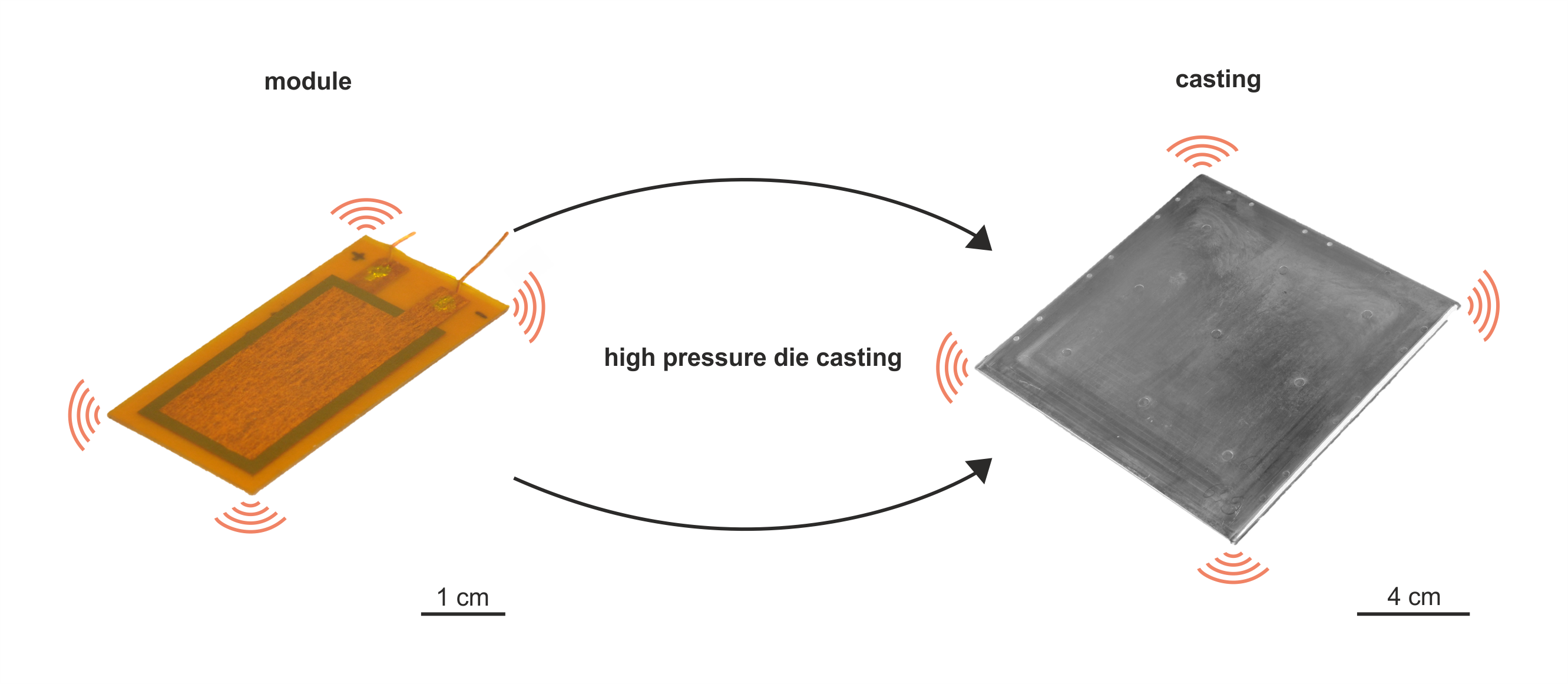 Fig. 1: Illustration of piezoceramic module and active casting.
Results
Challenges within the process

Efficient positioning distant to the neutral axis of the casting necessary
Inhomogeneous infiltration of flexible support systems (expanded metal)
Catastrophic damage to the module is possible
Very small process window for compound developement and sound insert positioning

Hybrid fixing system

Performance enhancemet by eccentric positioning
No module damage
High process reliability
Reduced interface casting/insert

Fig. 2: Details for hybrid fixing system: Theoretical design – module variation – components within the active casting.
Functional Zn-compound layer

Activation of surface for metallic bonding necessary
Al-Al-compound via zincate mechanism
Analysis for layer development systems and casting process window
Heat treatment for optimal interface properties

Fig. 3: Finished casting in the precast condition including an ultrathin zinc layer coated via zincate treatment.

Fig. 4: Microprobe image of Al-Al-compound segment in the ascast and heat-treated condition.

Integration behaviour

Evaluation of the form filling behaviour in respect to the position of the insert
Vertical /centric positioning enables homogeneous infiltration
Identical form filling behaviour for expanded metal and sheet based support systems

Fig. 5: Simulation results of the integration behaviour with different positions of the insert.
Residual stresses and thermal distortion

Numerical 3D-simulations enables prediction of stresses and distortion based on casting parameters

Fig. 6: Numerical 3D-calculation of the residual stresses based on casting parameters.

Verification of thermaly induced distortion

Results from contact profile method in good accordance with numeric simulation

Fig. 7: Verification of thermally induced distortion: (left) for LTCC/PZT Modules. (right) PI-Modules



Functionality

Linear relation considering eccentricity and lever arm
Reduction of efficiency with increasing casting thickness

Fig. 8: Actuatoric behaviour of the active castings using displacement measurements. Enhanced functionality is observed for thinner castings and higher eccentric position of the piezoceramic module.

Demonstrator

Technology transfer of "hybrid fixing system" to complex shaped castings
Position of piezoceramic module of great importance
Damping of sound level up to 85 % for the first natural frequency

Fig. 9: Theoretical setup and active damping measurements for the first natural frequency (≈ 980 Hz) of the demonstrator casting "bell".
---
Methods
Process development

Tool Technology
Dynamic fixing, in-situ support structure
Process parameters: vPlunger, TTool, etc.
Challenges: Process window evaluation for dynamic fixing system

Fig. 10: Schematic design (left) and concept (right) for dynamic fixing systems. Top: dynamic pins with substitute expandable metal parts. Bottom: Dynamic tool parts stabilize the module during casting – in-situ generated support structure.
Coating technology

< 1 µm: Zincate coating
≥ 1 µm: Electroplating
Coating thickness, morphology, modifications during/after casting

Fig. 11: Parametric study for zincate coating and different sheet alloys.
Characterisation

Intermediate Zn-layer: REM, EDX, light microscope, Mikroprobe, WDX, shear testing
Positioning: Microsection, CT, x-ray analysis, ultrasonic microscope
Functionality: Impedance analysis, Scanning vibrometer, deflection measurement
Thermal distortion: Num. modelling, Perthometer, Microglider

Fig. 12: Microprobe and light microscope images of Al-Al-compound casting.

Fig. 13: x-ray images of demonstrator casting "bell".
Publications
Reviewed Publications
[Kla12]
Klassen A, Rübner M, Ilg J, Rupitsch SJ, Lerch R, Singer RF, Körner C (2012)
Influence of the fabrication process on the functionality of piezoceramic patch transducers embedded in aluminum die castings. Smart Mater Struct 21:115014(11pp)
[Köp14]
Köpf J, Rübner M, Klassen A, Singer RF, Körner C (2014)
Thermo-mechanical loads on piezoceramic modules integrated in high pressure die castings. Int Foundry Res 2014(1)
[Rüb11a]
Rübner M, Günzl M, Körner C, Singer RF (2011)
Aluminium-aluminium compound fabrication by high pressure die casting. Mater Sci Eng A 528(22-23):7024-7029
[Sch13a]
Schwankl M, Kellner R, Singer RF, Körner C (2013)
The influence of sandblasting on the morphology of electroless deposited zinclayers on aluminum sheets. Appl Surf Sci 283:202-208
[Sch13b]
Schwankl M, Rübner M, Singer RF, Körner C (2013)
Integration of PZT-Ceramic Modules using Hybrid Structures in High Pressure Die Casting. Proc Mater Sci 2:166-172
[Suc12]
Suchaneck G, Eydam A, Rübner R, Schwankl M, Gerlach G (2012)
A Simple Thermal Wave Method for the Evaluation of the Polarization State of Embedded Piezoceramics. Ceram Int 39(1):S587-S590
[Sch13c]
Schwankl M, Rübner M, Flössel M, Gebhardt S, Michaelis A, Singer R F, Körner C (2013)
Active functionality of piezoceramic modules integrated in aluminum high pressure die castings. Sens Actuators A, doi:10.1016/j.sna.2013.12.016
[Kör14]
Körner C, Schwankl M, Himmler D (2014)
Aluminum-Aluminum compound castings by electroless deposited zinc layers. Mater Process Technol, doi:10.1016/j.jmatprotec.2013.12.014
Other Publications
[Kla11]
Klassen A, Rübner M, Ilg J, Rupitsch SJ, Lerch R, Körner C, Singer RF (2011)
Integration of piezoceramic sensors and actuators into structural components via high pressure die casting. In: Proc CRC/Transregio 39. Chemnitz, Germany, pp 45-50
[Rüb11b]
Rübner M, Klassen A, Körner C, Singer R F, Ilg J, Rupitsch S J, Lerch R (2011)
Dünnwandige Aluminiumdruckgussteile mit integrierten piezokeramischen Sensoren und Aktoren - Fertigung und Charakterisierung. In: 18. Symp Verbundwerkst Werkstoffverb, Chemnitz, S 277-282
[Rüb13]
Rübner M (2013)
Verfahrenstechnische und werkstoffkundliche Grundlagen zur vollständigen Integration aktiver Komponenten in Druckgussbauteile. Dissertation, FAU Erlangen-Nürnberg
[Sch13d]
Schwankl M, Flössel M, Köpf J, Körner C, Gebhardt S, Singer RF, Michaelis A (2013)
Integration of piezoceramic components in aluminum high pressure die castings. In: Proc CRC/Transregio 39. Nuremberg, Germany, pp 33-37
Contact:
Project Manager:
Prof. Dr.-Ing- habil. Carolin Körner
Friedrich-Alexander-Universität Erlangen-Nürnberg
Institut für Werkstoffwissenschaften
Lehrstuhl Werkstoffkunde und Technologie der Metalle
Martensstraße 5
91058 Erlangen
Phone: +49 9131 27528
E-Mail: carolin.koerner@...